Thuistezien 206 — 15.03.2021
Charles Stein
The Psychedelic Gedankenexperiment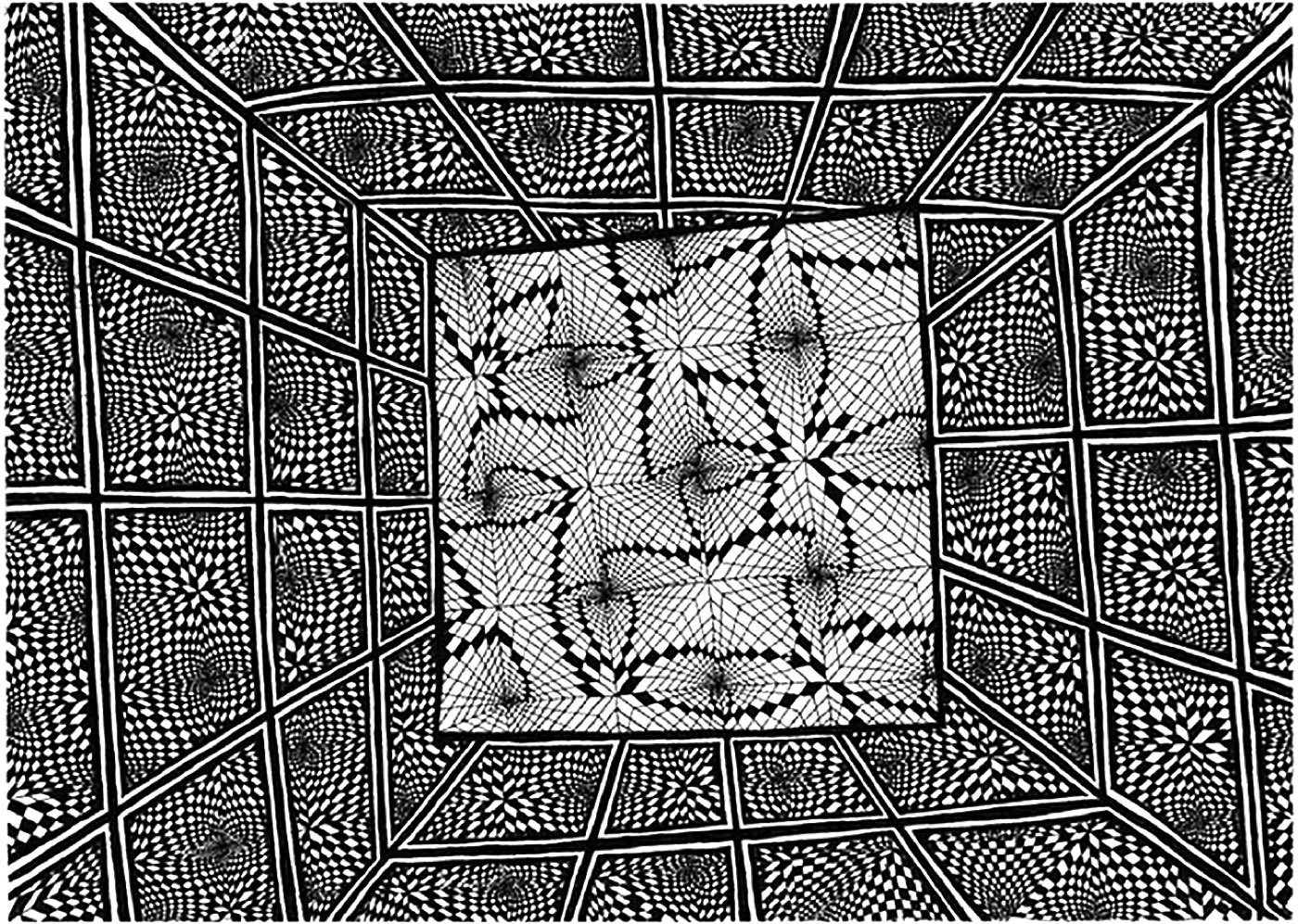 Image: Charles Stein, Untitled, 2017. Ink on paper, 15 x 10.5 inches. Collection the artist. Courtesy Station Hill Press.
Charles Stein's work comprises a complexly integrated field of poems, prose reflections, translations, drawings, photographs, lectures, conversations, and performances. Born in 1944 in New York City, he is the author of thirteen books of poetry including Views from Tornado Island (Lunar Chandelier), From Mimir's Head (Station Hill Press), and a collaborative study with George Quasha of the work of Gary Hill, An Art of Limina: Gary Hill's Works & Writings (Ediciones Poligrafa). He holds a PhD in literature from the University of Connecticut at Storrs. Stein has known and collaborated with Gary Hill since meeting him in New York in the 70s. The Psychedelic Gedankenexperiment is a booklet that accompanied Gary Hill's 2018 exhibition at West 'Always Rings Twice' specifically referring to Hill's installation 'The Psychedelic Gedankenexperiment' presented from February 2018 until May, 2018.
'I am taking the liberty, as artists do, to declare Lysergic acid diethylamide (LSD) as thee art experience par excellence.'
Stein asks us to consider 'What if, as Gary Hill's text does proclaim, an artist were to declare an acid trip — any acid trip — his acid trip, your acid trip, or indeed, the acid trip — a found 'performance'? What are the implications of such a declaration?' 'We form cognitions about what we perceive as we perceive it. These cognitions are informed by concepts we already possess and others that form spontaneously in the process of perception. Cognitions haunt and determine the transition from instantaneous sensations, which rise and vanish, to a relatively stable sense of a relatively coherent world,' Stein writes.
The Gedankenexperiment, or thought experiment in English, is a mental exercise mostly attributed to Albert Einstein. It is a method of experimentation that is completely performed within one's imagination and thought. This means we all possess the tools needed in order to perform our own personal Psychedelic Gedankenexperiment. And while this is a fun exercise, reading Stein's hypothetical tour de force is a must for anyone interested in psychedelia, consciousness, or art. In it, Stein effortlessly guides the reader's along a tumultuous, paradoxical, and beautiful train of thought provoked from Hill's initial point of departure. And though, a Gedankenexperiment is nothing more than thinking a concept through completely within one's head, nothing is more powerful than an idea whose time has come. Within the context of art, and even consciousness, Stein's poetic deconstruction of existence as our brain's natural response to chemical reactions, whether synthetically catalysed by ingesting a chemical or through the experience of listening to a piece of music, is enacting the same transformative process on the psyche. And when contemplating art in this sense, perhaps Gary Hill isn't so crazy after all to proclaim LSD as 'thee art experience par excellence.'
download PDF
Text: Hendrik Hohlfeld