Feedback #1
MARSHALL MCLUHAN AND THE ARTS
A touring project, with programs in Den Haag, Berlin, Paris & Toronto.
22.09.2017 — 19.11.2017
Feedback #1
MARSHALL MCLUHAN AND THE ARTS
A touring project, with programs in Den Haag, Berlin, Paris & Toronto.
22.09.2017 — 19.11.2017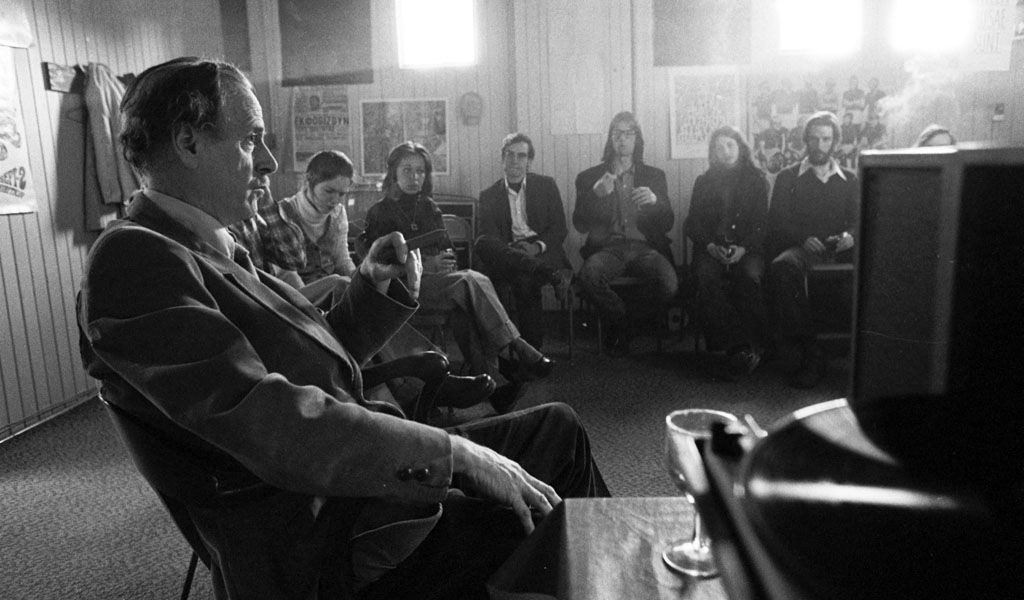 Marshall McLuhan and his students in The Coach House, University of Toronto.
Man and his World
With Baruch Gottlieb, Shailoh Phillips and others
1-day Symposium (Museumnacht Den Haag)
Saturday 21.10.2017, 13:00 — 18:00 H
Free Entry — 
RSVP REQUIRED
Program
| | |
| --- | --- |
| 12:00 ‑ 13:00 | Doors open: Exhibition Feedback #1: Marshall McLuhan and the Arts |
| 13:00 ‑ 13:05 | Marie-José Sondeijker (director of West) — introduction |
| 13:05 ‑ 13:45 | Dr. phil. Baruch Gottlieb — Lecture: 'Man and his World in the Anthropocene' |
| 13:45 ‑ 14:30 | Coffee Break |
| 14:30 ‑ 15:00 | Guided tour through the exhibition |
| 15:00 ‑ 16:30 | Dr. phil. Baruch Gottlieb & Shailoh Phillips Workshop: 'McLuhan's Ecology: the planet as a work of art' |
| 16:30 ‑ 17:30 | Public Discussion: 'The environment of pervasive media' |
| 17:30 ‑ 18:00 | Round up & Drinks |
In the middle of the cold war, there were signs of a thaw. Electronic media and the first digital computers were bursting into public consciousness conjuring visions of unlimited technological possibilities. Perhaps the most prominent public thinker on the social and cultural transformations at hand, Marshall McLuhan was invited to consult on a prototype of a future techno-utopia. This project, unprecedented in its scope, and radical in its Humanist spirit of inclusiveness, was perhaps that last great gesture of unadulterated hope in a better world through the advancement of science and technology, of medium and its message, it was 'Man and His World' EXPO 67.
The international symposium series which accompanies the recursive touring exhibition 'Feedback: Marshall McLuhan and the Arts' brings together specialists and generalists, artists, philosophers and critics to discuss the insights of Marshall McLuhan and the Toronto School and examine the pertinence for understanding our conditions today.
Our discussion, recalling the name of that great celebration of human reason and a hope for a peaceful and prosperous world 'Man and his World', will re-examine and recontextualize the techno-social aspirations of the late 60s, in the current conditions of the anthropocene where hopeful notions technological and scientific progress are facing intractable challenges. What has happened to our relationship to technology? What promises have been fulfilled, which proved to be unrealisable, and what hopeful scenarios for the present of ubiquitous networked light-speed computation can we imagine today?
The presentations will be in English and suitable for artists, students, art and culture enthusiasts and anyone with a wide interest.
Baruch Gottlieb
is trained as a filmmaker at Concordia University, has been working in digital art with specialization in public art since 1999. He is active member of the 'Telekommunisten', 'Arts & Economic Group' and 'Laboratoire Déberlinisation artist collectives'. He currently lectures in digital aesthetics at the University of Arts Berlin and is fellow of the Vilém Flusser Archiv. Curator of 'Feedback #1: Marshall McLuhan and the Arts', he writes extensively on digital aesthetics, digital archiving, generative and interactive processes, digital media for public space and on social and political aspects of networked media.
Shailoh Phillips
is a media artist, researcher and mediator. After initial training in cultural anthropology, philosophy and cultural analysis, Shailoh shifted her practice into the interstices between technology, arts and design education. For 10 years, she has been working on building interactive installations, workshops and games with organizations such as MIT Media Lab, Rijksmuseum, VPRO, Bouwkeet and Open Set. In 2017, she graduated (cum laude) from Piet Zwart Institute in Rotterdam, with an MA in Education in Arts and Design. She specializes in playful exercises in collective critical thinking, decolonizing institutions, and training digital literacy skills.