Encounters at Art Rotterdam
Mischa Andriessen, Mark Bain, Josephine Bosma, Pascal Gielen, Xander Karskens, Reinbert de Leeuw, Thijs Lijster, K. Schippers & Judith Vrancken
11.02.2016
Encounters at Art Rotterdam
Mischa Andriessen, Mark Bain, Josephine Bosma, Pascal Gielen, Xander Karskens, Reinbert de Leeuw, Thijs Lijster, K. Schippers & Judith Vrancken
11.02.2016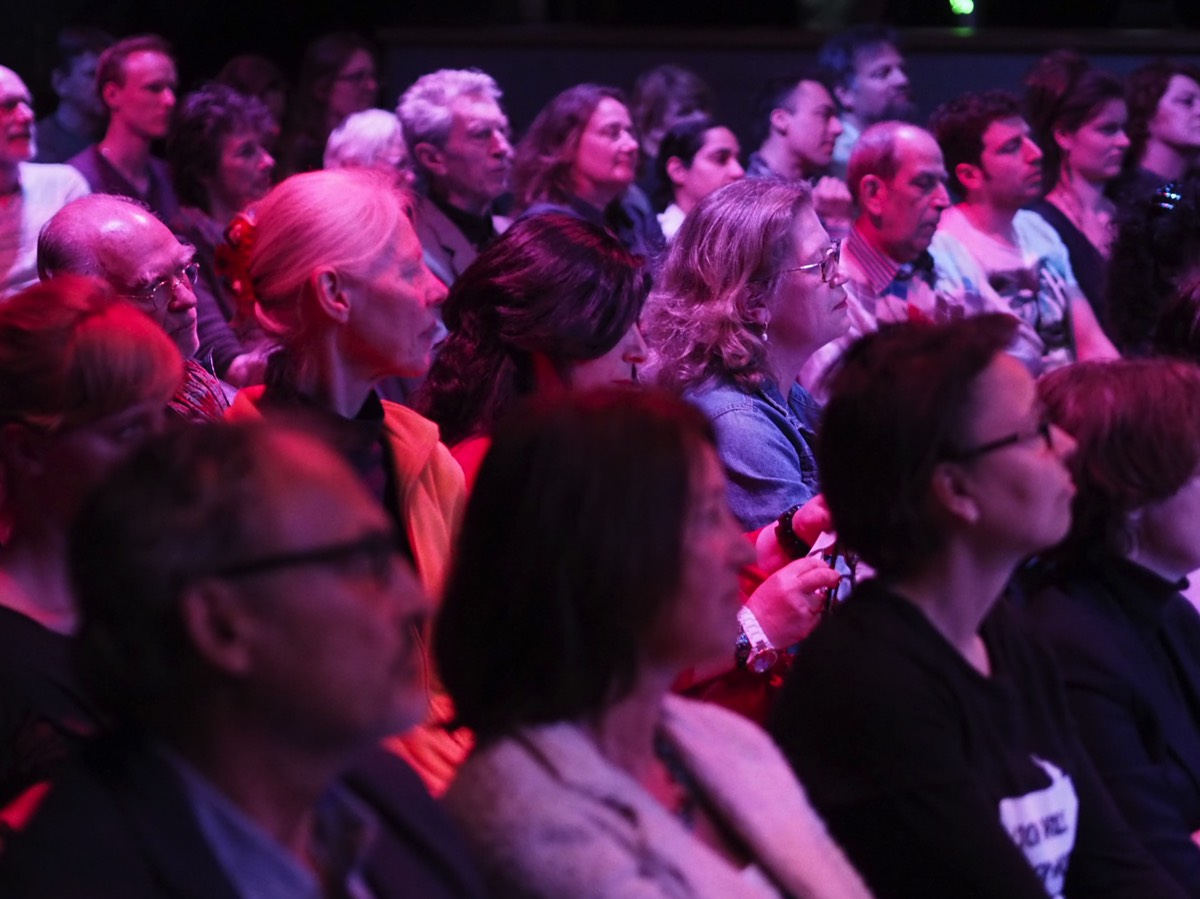 Reflecions/Encounters
At Art Rotterdam
Thursday 11.02.2015, 11:00 — 16:00
RSVP (required): eloise@westdenhaag.nl
With the new series of
Reflecions/Encounters
, Art Rotterdam provides a platform for recent and relevant developments within current contemporary art. At a time when thinking in terms of traditional disciplines — such as art, music, dance and architecture – seems to function less and less, the definition of art seems to reside more in method than in appearance. Within the series 'public meetings' during 'Encounters' two international experts will be given space to highlight this cultural phenomenon and engage the audience is a discussion.
Program
11.02.2016
11:00 — 12:00

Encounter 1
Pascal Gielen
 Professor of sociology of art and politics
Josephine Bosma
Journalist and critic
12:00 — 12:15

Coffee break
12.15 — 12:45

Lecture + presentation essay
Thijs Lijster
 Assistant professor in the philosophy of art and culture
'Notes on Totality - In Defence of Pretentious Thinking'
12:45 — 13:45

Encounter 2 
K Schippers
: Writer, poet and essayist
Reinbert de Leeuw
: Conductor and pianist
13:45 — 14:30
Lunch break
14:30 — 15:30

Encounter 3
Mark Bain
 Artist-researcher
Xander Karskens
Curator of contemporary art De Hallen Haarlem
15:30 — 16:00

Lecture + presentation essay
Mischa Andriessen
Poet
'Meeting – "Be specific. Car-Cadillac vegetable-onion flower-geranium. Writing is a visual art." Allen Ginsberg'
Moderator:
Judith Vrancken
Biographies
Pascal Gielen (1970)
is full professor of sociology of art and politics at the Research Center Arts in Society (Groningen University - the Netherlands) and at the Antwerp Research Institute for the Arts (Antwerp University - Belgium). He is editor in-chief of the international book series 'Arts in Society'. His research focuses on the institutional context of the arts and on cultural politics. Gielen has published many books which are translated in English, Korean, Portugees, Russian, Spanish and Turkish.
Josephine Bosma
(1962) is a journalist and critic. She focuses on art in the context of the Internet. In 1997 Bosma became one of the key figures participating in and molding the then new sphere of critical Internet discourse (and practice) taking place in email lists such as Nettime and Rhizome. Since then her writings on net art and net culture appear in numerous magazines, books and catalogues, both on- and offline, from 'Ars Electronica', 'Telepolis', 'Mute', and 'DU' to 'Metropolis M' and 'Frieze D/E'. Texts and interviews by Bosma have been part of anthologies like 'Netzkunst', 'Cyberfeminizam', 'ARt & D Research' and 'Development in Art'. Since 2011 Josephine Bosma is an external PhD candidate at the University of Amsterdam.
Thijs Lijster
(1981) is assistant professor in the philosophy of art and culture at the University of Groningen and coordinator of the Research Centre for Arts in Society. He studied in Groningen and New York, and in 2012 received his PhD for a dissertation on Benjamin's and Adorno's concepts of art criticism. In 2010 Lijster won the Dutch/Flemish Prize for Young Art Criticism, and in 2015 the NWO/Boekman dissertation award. He contributed to books such as Conceptions of Critique in Modern and Contemporary Philosophy (2012), Institutional Attitudes (2012) and No Culture, No Europe (2015) and coedited Spaces for Criticism. Shifts in Contemporary Art Discourses (2015).
K. Schippers
(1963) is a writer, poet, essayist and art critic. He has an extensive body of work to his name, which includes novels, poetry, essays, stories and reflections, and a children's books. He became well known for the literary magazine 'Barbarber', which he founded in 1958 together with J. Bernlef and G. Brands. For his poetry he received in 1996 the P.C. Hooft-prijs. As an art critic K. Schippers has written studies of the history of 'Dada' and more than of the bride theme in the work of Marcel Duchamp 'De bruid van Marcel Duchamp', as well as writing his own text inspired by the work of Man Ray 'Het formaat van Man Ray' and editing the experimental poems of Theo van Doesburg. His work has been credited with having introduced the readymade as a poetic form, the whole of his work is dedicated to looking at everyday objects and events in a new way.
Reinbert de Leeuw
(1938) is a well known and highly respected musician (pianist, conductor and composer) in the world of contemporary music. Since its founding in 1974 Reinbert de Leeuw is the conductor of the Schönberg Ensemble (now Asko | Schönberg). He regularly conducts chamber music ensembles and major Dutch orchestras. In addition to his concert activities he conducts various productions at the De Nederlandse Opera in Amsterdam and the Reisopera. He was a guest director and artistic advisor to the festivals in Aldeburgh, Tanglewood and the Sydney Symphony Orchestra. From 2001 till 2010 Reinbert de Leeuw was the artistic director and responsible for the NJO Summer Academy, the international orchestra and ensemble academy of the Nationaal Jeugd Orkest. In 1994 he was awarded an honorary doctorate from the University of Utrecht. Reinbert de Leeuw is also Professor at the University of Leiden. On the occasion of his 70th birthday in 2008 he was appointed Ridder in de orde van de Nederlandse Leeuw (Knight of the Order of the Netherlands Lion).
Mark Bain
(1966) is an artist whose work centres on the interaction of acoustics, architecture and physical/mental reactions to infrasonics: sounds below the human hearing threshold. He is involved in ongoing research investigating the effects of inherent and induced sonic events on structures and the people that inhabit them. He uses both the inaudible sounds normally present in buildings and other large constructions. He amplifies them with seismographic and other specially designed equipment, and the sound potential of structures, using machinery to vibrate the materials and/or surroundings for sonic effect.
Xander Karskens
(1973) is an art historian with a broad interest in contemporary culture. He is curator of contemporary art at Frans Hals Museum | De Hallen Haarlem. Focusing on recent developments in international contemporary art, De Hallen Haarlem presents a program of exhibitions, publications, and public events in two historical buildings on the city's main square. Karskens is also active as a curator of international exhibition projects: in 2012 he curated FOCUS: the Netherlands for ARCOmadrid and in 2013 'Ghost in the System - Scenarios for Resistance' at NCCA, a satellite project of the Moscow Biennale.
Mischa Andriessen
(1970) is a writer, translator and critic. He regularly publishes texts on music and the visual arts for publications including Trouw and het Financiële Dagblad. In 2008 he published his debut collection of poetry entitled 'Uitzien met D' for which he won the C.Buddingh'-prijs. For his second collection 'Huisverraad', he received the 2012 J.C. Bloemprijs. In 2014 he was awarded with the Charlotte Koehler Stipendium, and in August 2016 a new volume called 'Dwalmgasten' will be published.
Judith Vrancken
is a critic, writer and occasional curator. She is the writer and editor at Nederlands Dans Theater and is specialized the field of contemporary dance and performance. Vrancken is a regular contributor to Art Agenda, Frieze d/e, Flash Art, Metropolis M and Artforum.