Winter School of Discontent
Orly Almi, Michael Driebeek van der Ven, Frank Chouraqui, Galit Eilat, Cissie Fu, Chris Goto-Jones, Eric Kluitenberg, Marianna Maruyama, Riti Hermán Mostert & Eloise Sweetman
18.01.2016 — 23.01.2016
Winter School of Discontent
Orly Almi, Michael Driebeek van der Ven, Frank Chouraqui, Galit Eilat, Cissie Fu, Chris Goto-Jones, Eric Kluitenberg, Marianna Maruyama, Riti Hermán Mostert & Eloise Sweetman
18.01.2016 — 23.01.2016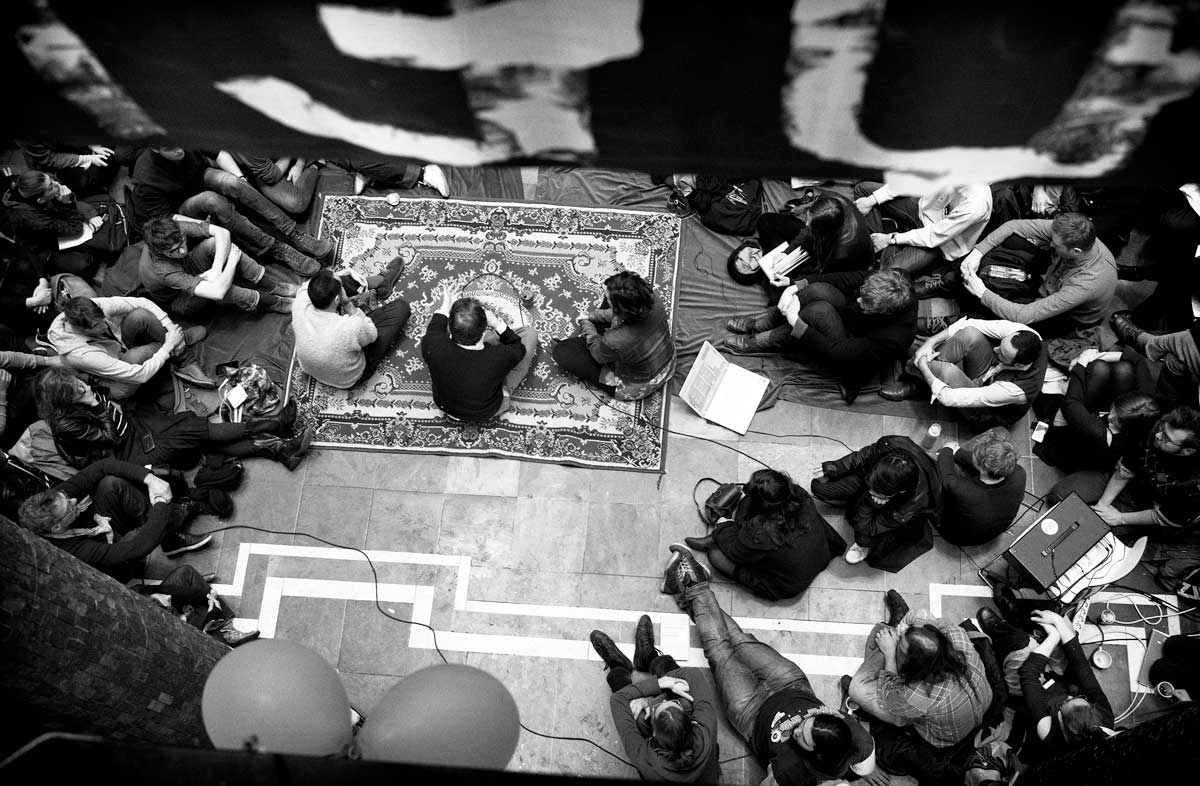 Maagdenhuis Occupation, 2015 (photo: Guido Van Nispen)
Winter School of Discontent
An informal learning program convened by Cissie Fu and Eloise Sweetman Triggering consciousness for creative politics and collective aesthetics Monday 18 January 2016 - Saturday 23 January 2016

In an increasingly alienating 21st century, neo-liberal ideology exacerbates the fragmentation of values and cultural capitalism erodes the critical power of art. To disrupt this cycle of vicious content, it is high time to consider what we can hold in common and what we can rally as a community. According to the phenomenologist Alphonso Lingis, in his book The Community of Those Who Have Nothing in Common:

[c]ommunity forms when one exposes oneself to the naked one, the destitute one, the outcast, the dying one. One enters into community not by affirming oneself and one's forces but by exposing oneself to expenditure at a loss, to sacrifice. Community forms in a movement by which one exposes oneself to the other, to forces and powers outside oneself, to death and to the others who die.

Provoked by Alphonso Lingis' challenge to conventional conceptions of community, the Winter School of Discontent moves through the themes of nothing, agitation, abandonment, exposure, encounter, and contingency. These interconnected themes prepare the ground for and respond to each other as well as encourage reflection and redefinition as the week proceeds. As our investigation into community develops with each guest contribution, we will discuss the themes, question the relevance of the themes, and pinpoint their potential for rallying an other community.

Drawing inspiration and resources from art, activism, and academia, West joins forces with the Political Arts Initiative to make space this winter for a school of discontent. Experimenting with the contours of community along physical, psychological, phenomenological, political, and practical dimensions, this experiential Winter School of Discontent explores the necessary but precarious conditions under which a community can emerge. The diverse thematic entry points of the school offer fresh avenues to think about and engage with commonality and collectivity by staying playful and attuned to ourselves and our surroundings.

The program brings together thinkers and practitioners from fields ranging across arts management, curatorship, dance, food art, media technology, narratology, philosophy, theatre, and translation. These diverse perspectives, by bearing on the current state, systems, and structures of the world, offer fresh insights to and methods for our individual and collective enquiry through an exciting series of workshops, seminars, and discussions.

Throughout the week you and your fellow participants will work on an individual or a group project with the skills and knowledge generated from the programmed activities. The form and content of projects are not pre-determined allowing you to experiment with interim conclusions and new ideas: your project can be a scholarly essay as much as an interactive directory, a one-man band as much as a participatory installation. On Saturday 23 January all projects are opened up to a wider audience during a special public event.

At meal times we will prepare together light lunches and dinners, and during the free working period you are welcome to work on your projects in the shared working space at West. The School conveners, Cissie Fu and Eloise Sweetman are also available, by appointment, between these hours.

To keep the discussions and experiences substantive and immersive, this Winter School of Discontent caps at 25 participants. A fee of €150 per participant or €100 for students includes light lunches and suppers as well as a reader. The program will be held in English.

To apply, please e-mail eloise@westdenhaag.nl before 15 December 2015 with a short introduction and a 100-word motivation. If successful, you will receive a confirmation of registration and instructions for payment within the week.