Thuistezien 139 — 05.01.2021
Sören Schmeling
Gustav Metzger — A museum for action


What connection is there to be found between a museum for today and for the future — which primarily emphasizes the technological abilities of art — and the documentation of violence of war?
Sören Schmelling ponders upon this question when examining one of the rooms in the exhibition 'Passiv – Explosiv. Entwurf einer Ausstellung' created in Cologne 1981 by Gustav Metzger, art historian Codula Frowein, and artist Klaus Steck. In this room, titled 'the museum room' Gustav Metzger's proposal for a museum of today and for the future is visualized in a 3D model. On the wall behind this model, various illustrations that deal with the topic of war are hanging as to suggest a certain connection. This model of a museum presents a non-hierarchical space where interactions between art, artist, and society make possible an open structure that reaches out to the social sphere. It deals with reality rather than the constructed, protected, and preserved reality of (Western) art history.
A possible answer to this question can be found in a text written by Metzger twelve years prior to the realization of the above-mentioned exhibition. In 'Automata and history' Metzger demands for technological advances for the arts, similar to what is executed in his museum model in 'Passiv – Explosiv'. The reason why artists should take part in the technological process, Metzger explains, is that the access to technology and the ability to work with them, will make one able to truly understand them and, thus, be able to morally and ethically question and, finally impact their abuse on war-like purposes.
The connection between Metzger's written work and exhibited work is no exception. In fact, there are many cases in which threads can be found from his earlier work, including his three year art strike in the 1970's and his attack on art history with his 'Art history with a gun' symposium. In his talk, 'A museum for action, not protection' Schmelling outlines and reasons the steps in Metzger's artistic career that leads to 'Passiv — Explosiv'. As the title of the talk suggests, a museum that wishes to take part in the realities of society, cannot continue to protect and preserve the conventional and excluding art historiography.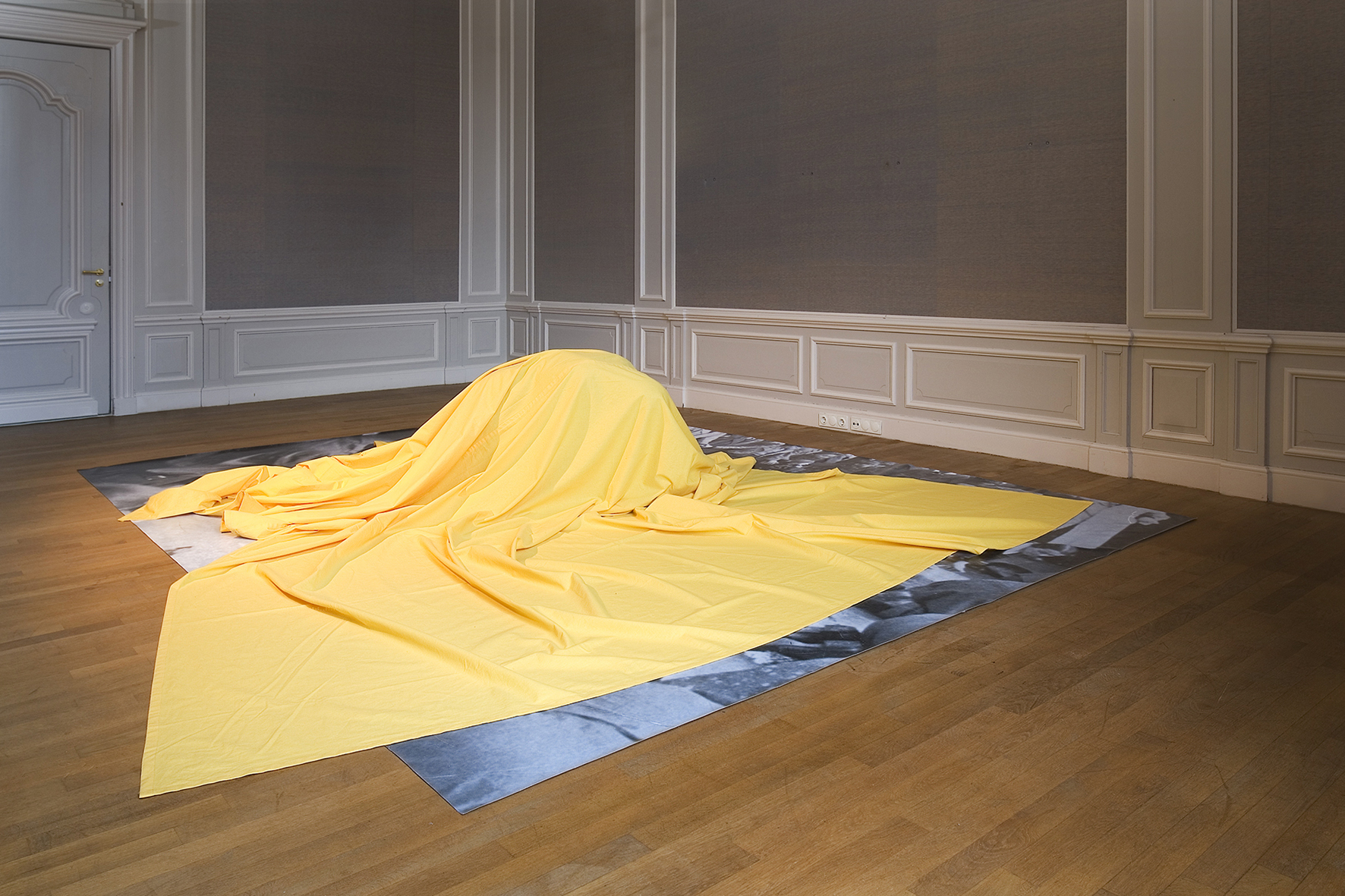 Photo: Gustav Metzger: 'Historic Photographs: To Crawl Into – Anschluss, Vienna, March 1938' in de tentoonstelling Ethics into Aesthetics, West Den Haag, 01.12.2017 — 04.02.2018
In his 'Historic Photographs' series, Metzger enlarged and obscured old press photographs, combining them with raw materials such as wood, textiles and steel, to create sculptural tableaux that challenge the viewer to literally look beyond the surface of the piece. The works reflect on our recent history and some of its most appalling events and attempt to alter the way that the viewer perceives these pictures, their content and, on another scale, history itself.
Text: Rosa Zangenberg