archive: 15.02 Bjorn Melhus I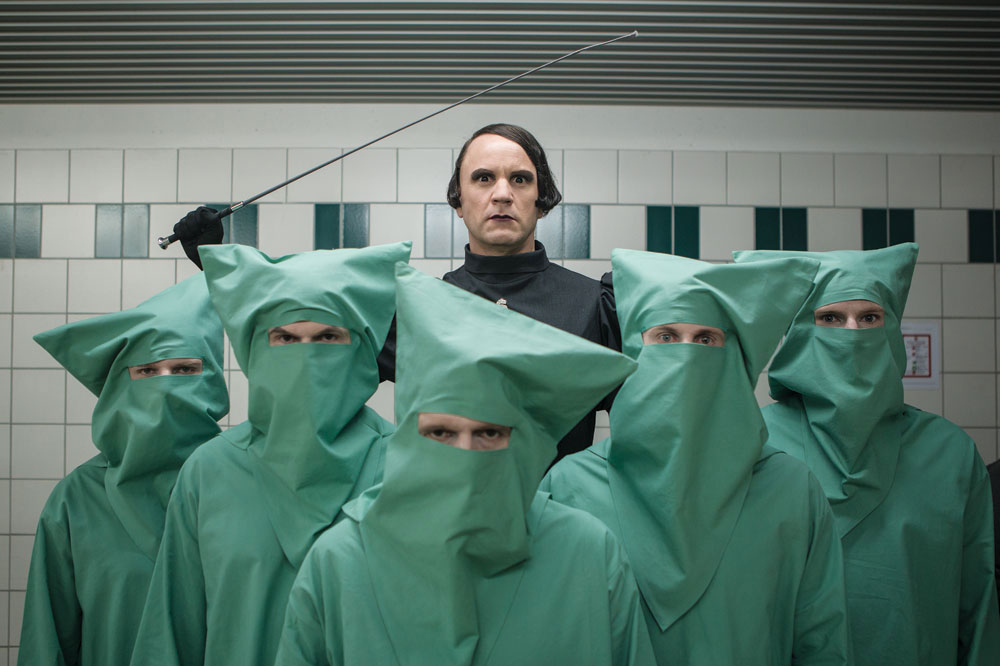 Bjørn Melhus
The Theory of Freedom I (Project one)
Open: 24 januari t/m 1 maart 2015
Locatie: Kunsthal Rotterdam
Voor de eerste editie van 'One Project' brengen de Kunsthal Rotterdam en West Den Haag de internationaal toonaangevende Duits-Noorse videokunstenaar Bjørn Melhus (1966) naar Nederland. In zijn spraakmakende korte films en video-installaties speelt hij met begrippen als identiteit, media, globalisme en massacultuur. Hij benadert maatschappelijke thema's op het scherpst van de snede, op een prikkelende, soms absurdistische toon en in een buitenissige vormgeving. In de multi channel installatie 'The Theory of Freedom' staat de definitie van vrijheid centraal. Parallelpresentaties van Melhus zijn te zien bij West Den Haag, Art Rotterdam en IFFR.

Tirannieke meesteres
Bjørn Melhus is gefascineerd door Amerikaanse tv-series, science fiction en de hedendaagse beeldcultuur. Hij gebruikt de beeldtaal en citaten van tv en internet als basis voor de karakters en dialogen in zijn films, waarbij alle personages door Melhus zelf worden vertolkt. Zijn nieuwste werk 'The Theory of Freedom' speelt in de omgeving van de gecontroleerde wereld van gated communities (gefilmd in Istanbul) en gaat in op verschillende aspecten van wereldreligies, globalisering en het neoliberale kapitalisme. Melhus vermengt de omstreden neo-liberale ideeën van de Russisch-Amerikaanse schrijfster en filosoof Ayn Rand (1905-1982) met stereotypische scènes uit Amerikaanse mainstream films als Armageddon. Als grondlegger van het objectivisme stond Ayn Rand, door Melhus neergezet als tirannieke meesteres, aan de basis van invloedrijke, conservatieve denktanks en haar boek 'Atlas Shrugged' wordt in de VS bijna net zo goed gelezen als de bijbel.
Melhus vergroot herkenbare settings extreem uit en zijn speelse, humoristische benadering in combinatie met een scherpe dosis realiteit is lachwekkend en pijnlijk tegelijk. De multi channel opstelling, die gecompleteerd wordt met zijn films 'Heaven' (2013) en 'America Sells' (1990), versterkt de krachtige, herhalende ritmes van de soundbites die herkenbaar zijn voor zijn werk.
Parallel events
The Theory of Freedom II
West Den Haag — 31 January to 28 February
More info
here
.
The Theory of Freedom III
IFF ROTTERDAM — 24 January 10.30 h — 11:30
More info
here
.
Me Against Us
Debate at Kunsthal Rotterdam – Friday 6 February 17.30 h.
Moderated by Liesbeth Levy (Lokaal, Rotterdam) with: Joost de Bloois, Hedwig Fijen, Pascal Gielen, Stefan Heidenreich, and Bjørn Melhus. More info & rsvp
here
.
back to overview