archive: 13.05 Leopold Kessler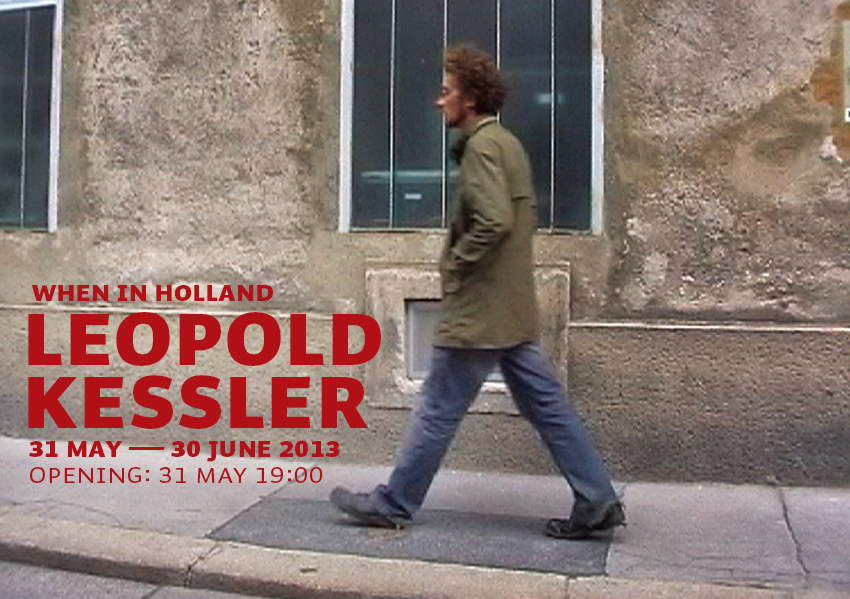 Leopold Kessler
When in Holland

Exhibition: May 31, 2013 — June 30, 2013
Opening: Friday May 31, 7 - 11 pm.

In his work, Leopold Kessler gives connecting factors for a new society. A society in which things are more logical, and offer comfort in a playful way. The value of goods is disputed and someone who looks at his work, also wonders why the public space is as it is. Kessler shows his work at West in a solo presentation of different videos and a new site-specific work. The exhibition as a manifestation in which the value of the artefact is disputed and the freedom of movement is tested.

Leopold Kessler explores the boundaries between the individual and society and between private and public. He makes minor interventions on the street or in an exhibition space. Interventions that can be subtle, but always accurate and site-specific. His interventions are, as it were, added in the cracks of the public space. A skater pool becomes a dump station for furniture and old street signs are repaired. For the Singapore Biennale he 'marked' one capsule of a giant wheel in the city centre with a sign that says Police. In this way, he questions how society functions and its mechanisms of control.
In parallel he explores everyday life by making sculptures, monuments, of ordinary objects. These are, for instance, located in a park, hanging on a facade of a building or stand in the middle of the street. Just like that, he surprises the trespasser. The works often function as triggers for reactions or as tools for focusing on specific, sometimes hidden phenomena. Recordings on video show that the artist is dealing with the conditions of social behaviour and the organisation of cohabitation. With his work Kessler comments on life, questions the notion of someone's property and gives the viewer reason to fantasize. In addition, he shows recognizable and sometimes funny sides of the bourgeoisie and gives conditions for a discrete revolution.

At West he will show a series of video works that question the limits of rules and their necessity. What exactly defines limits of the public environment? What is mine, what is yours? How do we behave at home and abroad? In the video 'Sharpening' (2010), it becomes painfully clear that the bourgeois, urbanite might be an egoist. The sharpening of the points of a fence is a striking comment by the artist. In the work 'Life of others' (2009) he explains the ambiguity of people exposed. We would like to take a look at the living environment of other people. But how would we feel if tourists would come and have a look in our house? The piece 'Monument of interspecific friendship'(2012) is a life-size statue of a Gorilla and an Orang-utan shaking hands. The monument reflects the ratio of foreign varieties and the dream of equality on earth. And makes us dream of a world in which we all can live in peace.

Leopold Kessler (1976, Munich) lives and works in Vienna. He had recently, among others, the following exhibitions: Kunsthaus Baselland, Basel; Centro de Arte Dos de Mayo, Madrid; Secession, Vienna; Museum of contemporary Art, Belgrade; Malmö Konsthall; Mocak, Cracow; Kunsthalle Vienna; Centre Pompidou, Paris; Singapore Biennale; galerie Andreas Huber, Vienna and at the New Galerie in Paris.

We invite you to the opening of the exhibition, in the presence of the artist, on Friday May 31 from 7 till 11 pm. The opening coincides with Hoogtij, the cultural tour of The Hague.

For press photographs and more information please email marie-jose@west-denhaag.nl or call +31(0)6.25578287.
back to overview