archive: 07.09 Wannes Goetschalckx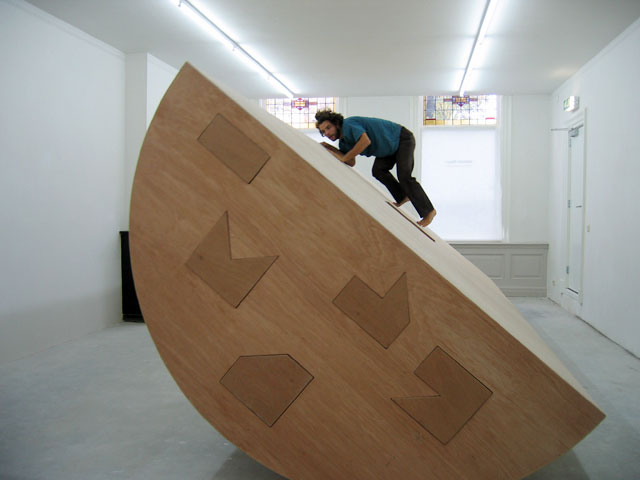 Wannes Goetschalckx: 1 KIND, perfomative installation, West, September 2007
Persbericht

From what I saw around me and what he told and showed me, I believe that this person is handling image/movement/time in a relevant and sincere way. His performative installations, and their beautiful handmade objects, could develop into a totally individual voice within visual art.
Hans Op de Beeck


West er trots op de eerste solotentoonstelling 1 KIND van de jonge Belgische kunstenaar Wannes Goetschalckx te presenteren. Voor de installatie met performance zal hij alledrie de ruimtes van West gebruiken.

Wannes Goetschalckx (1978, Zoersel, België) is december vorig jaar afgestudeerd aan de tweedefase opleiding het HISK (Hoger Instituut voor Schone Kunsten) te Antwerpen. De afgelopen jaren hebben zijn monumentale 'performatieve installaties' regelmatig de aandacht kunnen trekken van het kunstpubliek in het binnen- en buitenland.

1 KIND is een vervolg in een serie grootschalige (ego-gebonden) installaties, waarin Goetschalckx zijn lichaam als meetlint en sleutelobject gebruikt. Eerder in deze serie ontstonden 1 Story (2005) en 1 Way (2006); Een terugblik naar deze werken zal ook op de expositie te zien zijn.

Omdat locatie (thuis), kontekst en verleden belangrijke aspecten in het werk van Goetschalckx zijn, verhuisde hij voor 1 KIND zijn hele atelier van Antwerpen naar Den Haag, om een maand lang op locatie aan zijn nieuwe installatie te kunnen werken. Na zijn maand werken, wonen, leven, onderzoeken, spelen en bouwen op locatie nodigen wij u uit, 1 KIND te komen zien, en ervaren.

back to overview