Surveillance
Lotte Geeven & Yeb Wiersma
16.03.2013 — 16.04.2013
Surveillance
Lotte Geeven & Yeb Wiersma
16.03.2013 — 16.04.2013
Surveillance — Lotte Geeven en Yeb Wiersma
ACT 6: Pack
Location: Stationsweg, The Hague
Time: twilight, 15th of April
--
Featuring: Zaki Sufi, Jorden Josephina, Akim Afo, Kenidy Salvador, Jean-Pierre, Flavio Pedso Luis, Vicky Champion, Moira van Leeuwen, Tiffany de Jager, Ralph Toria, Chris Cross, Joey Tweeboom, NIgel Mensah, Khalid Sorton, Enouch Fosu, Vanara van Varsseveld, Sharlene Brinkman, Saalim Sufi, Erik Duin, Philip Vanterpool & Ryan Blanken (ST4R).
--
The experience of several events that are apparently causally unrelated or unlikely to occur together by chance, yet are experienced as occurring together in a meaningful manner is a concept called synchronicity; it creates- and is created by- an altered awareness of man towards his surrounding. 'Pack' triggers this state during 40 minutes in a one kilometre long street in The Hague right before dusk. The title refers to a pack as a group reigning a territory; in fact this is an encounter of two packs in one territory, two reigns, seeing eye to eye.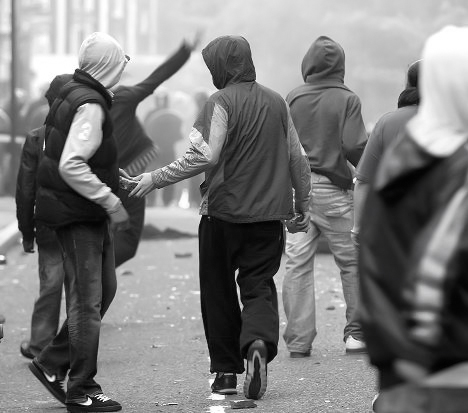 Image from the article 'Hoodies have taken on a violent significance' Photograh David Bebber for The Times.