Ward Denys (BE)
02.07.2010 — 01.08.2010
Ward Denys (BE)
02.07.2010 — 01.08.2010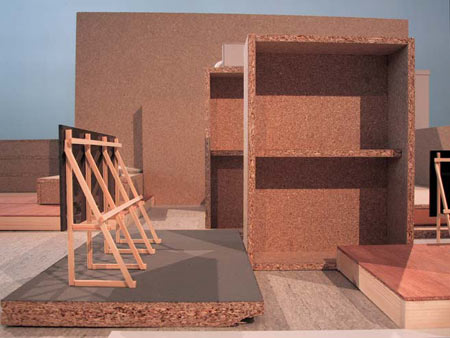 Installation McBride Fine Art, Antwerp, Belgium 2008.
The BUNKER #03
West's Additional project/ exhibition space
5 exhibitions from May 16th until September 19th 2010
Westbroekpark, The Hague

#01 > 16.05.2010 – 06.06.2010 > Berndnaut Smilde (NL)
#02 > 09.06.2010 – 27.06.2010 > Lotte Geeven (NL)
#03 > 02.07.2010 – 25.07.2010 > Ward Denys (BE) &
video program: composed by Denis Isaia (IT)
#04 > 31.07.2010 – 29.08.2010 > Marielle Buitendijk (NL)
#05 > 04.09.2010 – 19.09.2010 > Harold de Bree (NL) & Marcel van Eeden (NL)

This summer West, located in the heart of The Hague since 2007, is going underground and will occupy a bunker situated in Westbroekpark The Hague with contemporary art. With this new, exciting location a series of exhibitions will challenge both national and international artists and filmmakers to abandon conventional conditions and ideas, usually provided for by the white cube context. Damp, dark and impenetrable: all notions that characterize the bunker as an a-typical art location and stimulate the artists to make new site-specific work. Invited by West, the artists present their work in 5 editions.

Through time the bunker and its function have gradually changed. The construction with its distinct qualities has become unmanageable and ultimately became part of the Dutch public garden landscape as a remnant of World War II. At Westbroekpark the bunker serves as an obscure storage and party location and this summer as an experimental exhibition space.

The Bunker #03 is dedicated to international art and will feature an installation by the Belgium artist Ward Denys and a video-show composed by the Italian curator Denis Isaia.

Ward Denys' practice is closely connected to the field of architecture. Often preceded by profound analysis of its environment. With this new installation in the bunker, the artist surprises the audience. A clean, minimalist construction, made by unsustainable material, navigates through the space of the bunker creating a new space within the existing space. Without having one distinct function it radically reverses the inside and outside shapes.
The viewer will not be able to fully grasp the work before inspecting the 6 original rooms joined together. This work of art creates an inversion that again points out the specific features of the site with its functionality and history.

Ward Denys (BE, 1975) lives and works in Ghent, Belgium. The artist recently had solo exhibitions at STUK in Leuven, CCNOA in Brussels and SNO in Sydney. His work was shown at several group exhibitions, including the Centre for Visual Arts in Rotterdam, Croxhapox in Ghent and Bozar in Brussels.

Denis Isaia (IT, 1974) works as a curator in Bolzano, Italy, curating for example Manifesta 7, La secunda luna, Cio che ho visto di bello and Best art practices. For the bunker, he made a special video program with works by artists who have never been shown before in the Netherlands, such as the playful work of Felix Tschurtschentaler.

Bunker #03 runs parallel to Theatre Festival De Parade that will reside at Westbroekpark from July 2nd.
With a free summer program The Bunker, West wants to make conceptual art more accessible to the audience, preferably in a public and easily accessible location.
The crowded Westbroekpark is the designated place for a project like this. For more information visit www.west-denhaag.nl/bunker.

The Bunker is located in the Westbroekpark between the Rose Garden and tearoom, rental rowboats Waterkant, The Hague/Scheveningen and is open daily from May 16th till September 26th 2010, free admission from 10 to 21 hours.

We are pleased to invite you to the official opening of the third edition of The Bunker series on Friday, July 2nd at 5 pm.