Gustav Metzger Symposium
Mathieu Copeland, Ivor Davies, Elizabeth Fisher, Andrea Gregson, Stewart Home, Pontus Kyander, Emma Ridgway, Eva Scharrer, Sören Schmeling, Helen Phillips and John Plant.
26.01.2018
Gustav Metzger Symposium
Mathieu Copeland, Ivor Davies, Elizabeth Fisher, Andrea Gregson, Stewart Home, Pontus Kyander, Emma Ridgway, Eva Scharrer, Sören Schmeling, Helen Phillips and John Plant.
26.01.2018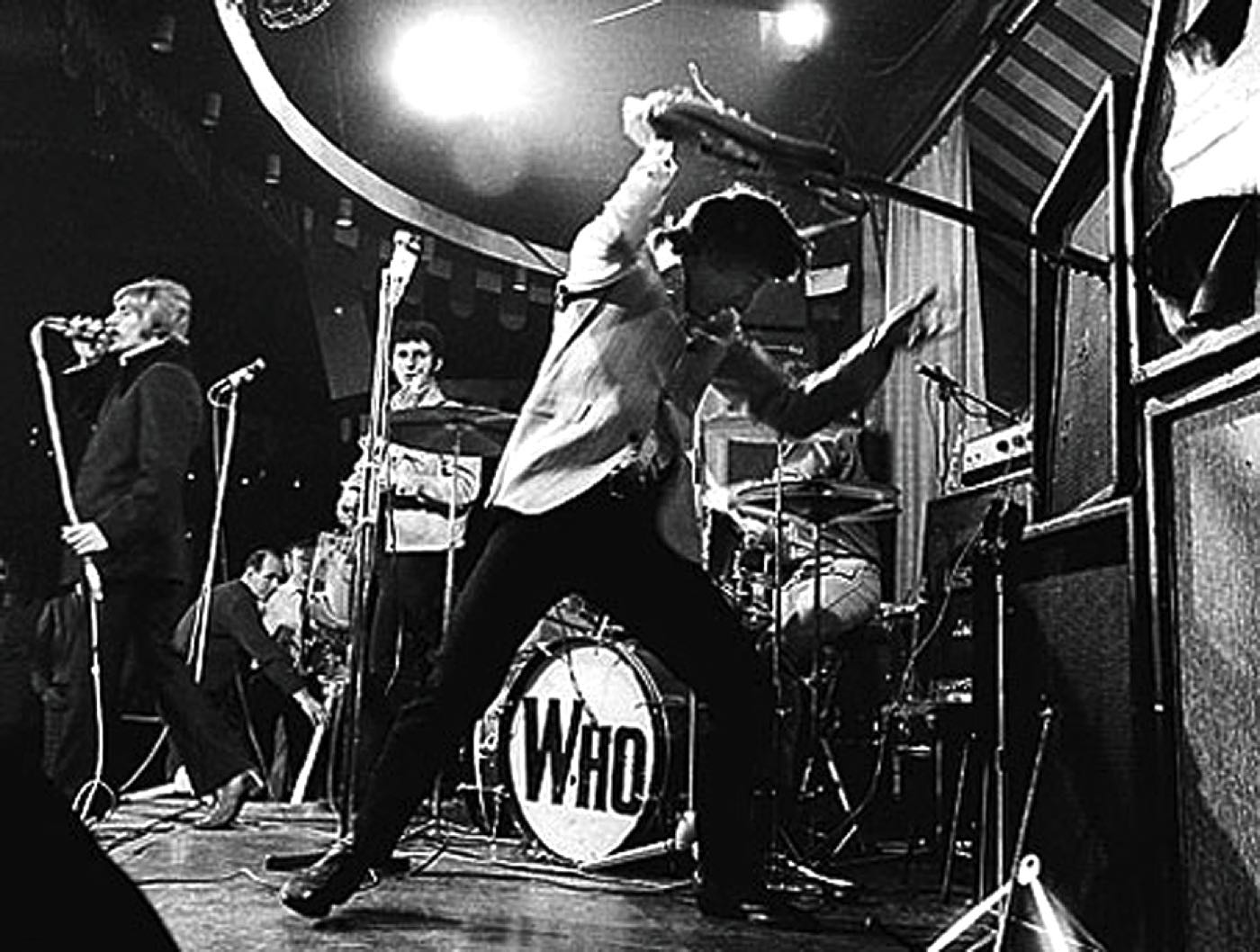 Photo: The Who, 1969. Gustav Metzger is the man who inspired Pete Townshend to smash his guitars.
Gustav Metzger:
The Conscience of the Art World
International symposium with Mathieu Copeland, Ivor Davies, Elizabeth Fisher, Andrea Gregson, Stewart Home, Pontus Kyander, Emma Ridgway, Eva Scharrer, Sören Schmeling, Helen Phillips and John Plant.
Time: Friday 26 January 2018, 10:30 - 18:00
Venue: Het Nutshuis, Riviervismarkt 5, 2513 AM Den Haag
Entry: 10/15 €
get tickets
This day-long symposium brings together writers, curators and artists to explore Gustav Metzger's ideas around the power of art to cause social change, with an in-depth look at his politically driven artistic practice, spanning over 70 years. Long referred to by art historians and critics as the 'conscience of the art world,' Metzger was a leading forerunner of activist art and the environmental movement in art. He strongly rejected the capitalist-driven art world, and often produced works that were ephemeral and could not be bought or sold. Throughout his life, he dedicated much of his time and energy to highlighting the key social concerns of our time, with a particular focus on extinction, and adamantly stressed the importance of taking action now, before there is nothing left to save.
'The vast reservoirs of expertise locked up in the art world can contribute something positive to the fight against extinction. Knowledge and awareness, including that stimulated by art, can open up, trigger a sequence of responses by people throughout the world. There are huge areas where art has the opportunity to act, ie. jumping disciplines, engaging with the unknown, reevaluating previous cultures and extracting samples – and examples – that can play a role in reshaping the future.' — Gustav Metzger (1926 – 2017)
Organised by West in collaboration with curators Ula Dajerling and Leanne Dmyterko, 'Gustav Metzger: The Conscience of the Art World' will look at some of the most significant events and moments in Metzger's life and career, from his early years as an activist to his turn towards a more conceptual practice, with a focus on environmental issues. During a series of panel discussions, in-conversations and talks, speakers will discuss their perspectives on Metzger's work and ideas, as well as their personal and professional relationship to him and his art. This symposium follows on from Metzger's recent initiatives to bring together artists, academics and scientists to speak about important issues facing the world today, such as his first extinction conference at the University for the Creative Arts, Farnham in 2014.
'Gustav Metzger: The Conscience of the Art World' takes place in conjunction with the first solo exhibition of the artist since his death in March 2017. Focusing on Metzger's art and his belief in its power to contribute to social action and change, as well as the intertwining of history, politics and transformation in his work, the exhibition places works from over a 65-year period in dialogue with each other and with the public.
Speakers biographies
Mathieu Copeland
(1977) has been developing a practice seeking to subvert the traditional role of exhibitions and to renew our perceptions of these. Amongst many others, he co-curated the exhibition 'VOIDS, A Retrospective' at the Centre Pompidou, Paris and the Kunsthalle, Bern, and edited the anthology VOIDS. He curated 'A Choreographed Exhibition' at the Kunsthalle St Gallen & La Ferme du Buisson, 'Soundtrack for an Exhibition' at the Musee d'Art Contemporain, Lyon, monographies exhibition of 'Alan Vega', 'Gustav Metzger' and 'Phill Niblock,' or again 'A Mental Mandala' at MUAC, Mexico City. He initiated and curated the series 'A Spoken Word Exhibitions', 'Reprise' and the 'Exhibitions to Hear Read' presented in 2013 at MoMA, New York. Among his recent exhibitions, in 2016, Copeland curated 'A Retrospective of Closed Exhibitions' at Fribourg's Kunsthalle, Switzerland. In 2012-2013 he was the invited curator at the Jeu de Paume, Paris, and was the guest-curator at Le Plateau, FRAC Ile-de-France Paris, 2014-2015. He published the critically acclaimed anthology and manifest publication 'Choreographing Exhibitions' (Les Presses du Réel, 2013), and realized 'The exhibition of a film' – an exhibition as a feature film for cinemas. In 2017 he edited the anthology 'The Anti-Museum' co-published by Koenig Books. His forthcoming book includes in 2018 the anthology of Gustav Metzger's writing he edited, published by JRP Ringier.
Ivor Davies
(1935) studied painting at Cardiff. Early 'happenings', 1954. Edinburgh University PhD on Russian Art, 1975. Lecturer in History of Modern Period, School of Art History, Edinburgh University, 1963-78. Head of Department of Cultural Studies, Newport, 1978-88. Numerous academic art historical writings, books, papers, reviews. Founding Curator Talbot Rice Gallery, Edinburgh University, 1970-78. Met Metzger 1965; helped formulate DIAS 1966: read three papers, chaired most sessions. Performances for DIAS and elsewhere (many filmed),1964-70. Pioneer explosive art in Britain. Recent performances include 'Pyrogenesis' (remake of explosives organ) 2016; 'Ancient Mariner Not an Opera', 2016. About 100 joint exhibitions, about 60 solo exhibitions. Founding member of Beca, since 1980s. After mixed exhibitions, including Tate and Wolfsburg, solo exhibitions include largest exhibition ever presented in Wales, at the National Museum of Wales, 1915-16.
Elizabeth Fisher
(1973) is an independent curator and a doctoral candidate at the University of Cambridge, UK. Previously, she was Curator of Exhibitions and Collections at Kettle's Yard in Cambridge, where, in 2014, she curated the exhibition 'Gustav Metzger: Lift Off!' She has edited numerous publications on modern and contemporary art, including 'On Not Knowing: How Artists Think' (Black Dog Publications, 2014) and 'The Experimental Generation: networks of interdisciplinary praxis in British art, 1950-70' (Interdisciplinary Science Reviews no.42.1, July 2017).
Andrea Gregson
(1968) is a London based artist, curator and Senior Lecturer in Fine Art at University for the Creative Arts, Farnham. From 1995 to 1997, she was awarded a Postgraduate Fellowship at the Academy of Fine Art, Warsaw, Poland and an MA Fine Art from Manchester Metropolitan University (1998).
Her research is an ongoing inquiry into obsolescence, materiality, value and site, using making as a knowledge generating process for thinking and invention. She is preoccupied with sculptures ability to fold time and space into an object, the intertwining of its story, the manufacturing process and artists' labour. In 2016, she realised 'Casting Space: Sculpture from the Anthropocene' at University of East London supported by Henry Moore Foundation. Andrea co-curated Gustav Metzger's 'Facing Extinction: The Conference' at UCA Farnham, and curated his solo show at James Hockey Gallery and Herbert Read Gallery (2014), which was livestreamed at the 'Extinction Marathon', Serpentine Gallery, London. Afterwards, she co-curated Gustav's collective artwork 'Remember Nature' in 2015. Gregson has exhibited in numerous solo and group shows in Romantso, Athens (2017); AVA Gallery, London (2016); Patrick Heide, London (2014); Concrete, Hayward Gallery, London (2012); Torrance Art Museum, Los Angeles (2011); The Garden Museum, London (2009); Exeter Phoenix (2008); Galerie Shuster, Berlin (2009); Galerie 1816, Bretenoux, France (2007); Galeria XX1, Warsaw (2005); and CCA, Zamek Ujazdowski, Warsaw (2000). She curated 'Workshop of Hereafter' Blyth Gallery, Imperial College, London (2009) and 'The Miniature World Show' Jerwood Space, London (2006).
Stewart Home
(1962) is an artist and writer. His book The Assault On Culture (1988) included a chapter on Auto-Destructive Art and he also retooled Metzger's Art Strike in the mid-1980s, organising another to run from 1990-1993. When Gustav returned to London in the 1990s, he and Home became friends and in 2003 the latter's work was installed alongside Metzger's '100,000 Newspapers' at T1/2 Gallery in London. Home's show 'Vermeer II' at workfortheeyetodo in London in 1996 was immediately preceded at the same venue by Metzger's solo exhibition 'Damaged Nature'. Recent political interventions include banners emblazoned with the slogans 'Free Exorcism With Every Taylor Wimpey Ghost Home' (in English) and 'Mansion On Shady Land' (in Chinese), to mock the developer Taylor Wimpey, who were knocking down London socialhousing and replacing it with luxury apartments that they marketed as investments to the super rich in the Far East. This was part of a larger multi-artist project 'Spectres of Modernism' (London, 2017). Much of Home's recent activism has focused on defending working class housing in London from being replaced with properties that investors buy and leave empty. He was born in London in 1962 and still lives there.
Pontus Kyander
(1959) is a curator and art writer who has known and worked with Gustav Metzger since 2001. He was the curator of Gustav Metzger's retrospective Act or Perish (2014-16; co-curated with Dobrila Denegri). In 2006 he curated Gustav Metzger Works at Lund Konsthall, and co-curated Gustav Metzger Prace (Work) 1995-2007 at Zacheta National Museum in Warsaw 2007. In 2008, he was a professor at Ewha Women's University in Seoul, South Korea. Pontus Kyander was the director of SKMU Sørlandets Kunstmuseum and Trondheim Kunstmuseum from 2010 to 2014. He currently lecturing at the Finnish Academy of Fine Art.
Emma Ridgway
(1976) is a curator of exhibitions and creative events; she works as Head of Programme, Chief Curator at Modern Art Oxford. In 2005 she met and worked with Gustav Metzger on his display of archival material for the Norwich biennale 'EASTinternational'. As part of the curatorial team of the multidisciplinary project 'Experiment Marathon', she produced Gustav Metzger's 'Nomophobia as a performance' (Serpentine Gallery 2007), then as an interactive exhibit for the exhibition 'Experiment Marathon' (Reykjavik Art Museum 2008). Ridgway conducted a series of interviews with Gustav Metzger including 'Art as Energy for Life' (Modern Art Oxford 2016), 'Reduced Art Flights' (The RSA and Latitudes 2008), and she spoke at his solo show 'Decades' 1959-2009 (Serpentine Gallery 2009). In the exhibitions she co-curates at Modern Art Oxford two exhibitions recently featured Gustav Metzger's installations: 'Mass Media: Today and Yesterday' 1972/2017 (Future Knowledge 2017) and Liquid Crystal Environments 1975/1998 (Kaleidoscope: A Moment of Grace 2016). At Modern Art Oxford her recent exhibitions include 'Hannah Ryggen: Woven Histories 1933 to 1966; Rose Finn-Kelcey Life, Belief and Beyond,' and 'Lubaina Himid: Invisible Strategies'. She also devises creative education projects ranging from art photography publications co-produced with hundreds of young people to intensive workshops such as 'Arts School Lab', which reimagined pedagogic methods from the Bauhaus (2012) and Black Mountain College (2013) at the Barbican. She formerly worked at the Barbican, The RSA and Serpentine Gallery in London and Khoj International Artists' Association in Delhi.
Eva Scharrer
(1971) is an art historian, freelance curator and writer. She has organized exhibitions in Germany and abroad, most recently 'Random Walks' at Kunsthal 44 Møen, Møn, Denmark (2016), 'Unfolding Constellations' at CoCA Torun, Poland (2016), 'Gustav Metzger – Mass Media Yesterday and Today' at the showroom of Neuer Berliner Kunstverein (2015), and 'To Paint is to Love Again' at Deutsche Bank KunstHalle in Berlin (2013). From 2009 to 2012 she was agent, curatorial researcher and writer for dOCUMENTA (13), and in 2007 she was co-curator of the 8th Sharjah Biennial, 'Still Life. Art, Ecology and the Politics of Change', where she realized phase one of Gustav Metzger's unrealized project 'Stockholm, June' (1972/2007). She has written catalogue essays on renowned and emerging artists and has been contributor to international contemporary art journals such as Artforum, Frieze d/e, Spike Art, Modern Painters, Kunst-Bulletin, and Texte zur Kunst. She was editor of Block's Weekend Zeitung, a newspaper accompanying the exhibitions 'Ich kenne kein Weekend: Archive and Collection René Block' at Berlinische Galerie and Neuer Berliner Kunstverein.
Sören Schmeling
(1979) is an art critic, researcher, independent curator and author based in Freiburg/Breisgau (Germany) who is working on the link between archives, art and society. He is head of the photo archive of Kunsthalle Basel (Switzerland) were he recently curated the show 'Exposed Exhibitions – Fotoarchiv der Kunsthalle Basel', an intermix of visualizations of archival material and art historical research together with five contemporary artistic positions interpreting the photo archive's vast content. He studied art history, modern German literature and economics at the Universities of Freiburg and Basel and was lecturer in art history at the Universities of Freiburg, Zurich and Lucerne. Currently he is finishing his PhD thesis on Gustav Metzger. From 2011 to 2013 he had run an independent research and exhibition project on Gustav Metzger based on his library in Freiburg and related archives. Thereby he realized together with Samuel Dangel the exhibitions: 'passiv – explosive, revisited' (2012) at Kulturwerk T66 and 'Gustav Metzger. Years without Art.' at the Morat Institut für Kunst und Kunstwissenschaft (2013) accompanied by a comprehensive catalogue. He is author of several catalogue essays on Gustav Metzger like Art History with a Gun, in: 'We Must Become Idealists or Die. Gustav Metzger', Fundación Jumex, Mexico City, 2016 or 'a Model – a Museum for Today and for the Future', in: 'The Anti-Museum', Koenig Books, London 2017.
Helen Phillips
(1944) is a retired Professor of English, School of English, Communication and Philosophy, Cardiff University, Wales. She was the co-organiser of the 'Burnt Poetry' Conference, in Cardiff, 2016, which was linked to the 3-month exhibition 'Silent Explosion: Ivor Davies and Destruction in Art', which centred on the Ivor Davies archive of Destruction in Art, and explored approaches to Word and Image, Destruction and Creativity and the history of DIAS. Gustav Metzger hoped he would be well enough to attend and speak, but unfortunately but wisely he eventually decided this would be too much for him to undertake. The conference included papers from other participants in DIAS.
John Plant
(1947) was born in East London and studied ecology with Gordon Goodman. There he took the opportunity to organise the Students Union Arts Festival, which let him present and work with artists such as Gustav Metzger, Ivor Davies, Ian Breakwell, John Latham, Bob Cobbing, AMM, Susan Bradshaw and others. He intermittently and spasmodically contributed to projects such as Fluxshoe, and the International Coalition for the Liquidation of Art. As a Councillor in the London Borough of Newham, after a couple of years in rebellious disgrace, he became the Chair of a new department responsible for art and cultural matters. He and others helped fund a self-managed Newham Arts Council, and the Theatre Royal Stratford. Plant opened the second largest new post war park in London, and saved two important historic buildings from demolition, before reverting to rebellious disgrace. Over some 15 years he provided and performed words for musicians such as DIARY, 46,000 Fibres and the AMMAllstars. He recently played the role of Lenin in a film for Class War. His current projects include preparing talk on the sculptor Laszlo Peter Peri ((a work of his is under threat in the area he lives in), a biographical pamphlet on Joe Fineberg (the "Stepney Bolshevik" who helped Lenin convene the founding conference of Comintern) and an issue of Revolutionary History about Karl Radek. He continues to be a member of the editorial board of Revolutionary History, where I edit reviews and obituaries.