Nicolas Milhé (FR)
15.01.2011 — 18.02.2011
Nicolas Milhé (FR)
15.01.2011 — 18.02.2011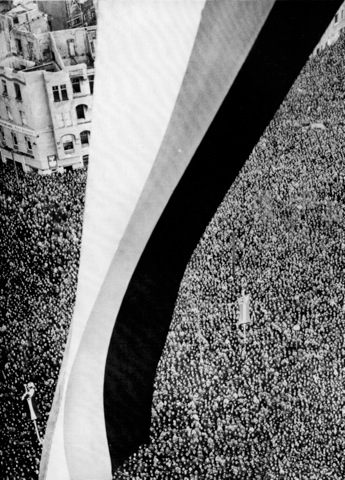 Solo exhibition BLUE, WHITE, RED, BLACK by Nicolas Milhé

Exhibition: 15.01.2011 – 18.02.2011
Opening: Saturday 15 January, 17:00 – 19:00

West proudly presents the first solo exhibition by the French artist Nicolas Milhé (*1976) in the Netherlands. Milhé is an activist artist. In his work, he combines a pointed political message with an esthetic design. This results in objects that are characterized by a calm attracting appearance and a seething nucleus, loaded with symbols. Especially for West, Milhé will produce a new work.

Milhé is very much aware of the esthetical strength of symbols of power. It is therefore not surprising that politics are a topic in his work. They are actually more than a topic: politics are the basis of his work. In Rennes, Milhé installed a 6 meter high concrete readymade in the city center, consisting of a thin vertical piece that ends in a broad base. Such concrete elements form, for example, in Jerusalem, the separation wall between Israel and the Westbank. Through his work, Milhé confronts the audience with an extremely minimalistic design, with a haunting message.

One of his other striking works is 'Meutrière', a wall fragment in different variations, wherein Milhé mixes medieval architectural elements with modern production methods into an anachronistic symbol for two contrary perspectives, such as violence and protection.
With 'Respublica' , Milhé delivered a clear statement last summer. The work was exhibited, during the exhibition 'Dynasty', on the top of Palais de Tokyo before it was permanently installed on an abandoned grain storage in the city of Bordeaux. The monumental, enlightened installation of the two Latin words res and publica turned the location and its content into public matter. It is a silent but strong criticism of the structure of the republic and an expression of impossible efforts to physically localize a 'homeless' phenomenon.
The work of Milhé is often tempting and attractive but it is also capable of uncovering our ignorance and limitations. The 'game' Milhé is playing with us, is challenging, self-assured and pointed.
Nicolas Milhé recently had solo exhibitions at, amongst other places, Frac Aquitaine, Bordeaux; La Vitrine, Paris; Buy-sellf Art club, Marseille and Galerie Corentin Hamel, Paris. He participated in group exhibitions at, amongst other places, Musée d'art moderne de la ville de Paris & Palais de Tokyo, Paris; Centre Georges Pompidou, Paris; Glass Box, Paris; Heidigalerie, Nantes; 40mcube, Rennes; Palace Contemporary Projects, Dublin; Villa Bernasconi, Geneva and West, Den Haag.

The exhibition at West is accompanied by a new publication with a text by art critic Audrey Illouz.
We are pleased to invite you to the official opening in the presence of the artist on Saturday January 15th at 17:00. For press photos or more info please contact us via info@galeriewest.nl or call +31(0)70.392.53.59.

Nicolas Milhé will be at West in week 2 of 2011 and will be available for interviews.